Beautiful Giclée Prints signed by the artist
NEW! Custom prints of many of deb's paintings and illustrations are available to order upon request. Contact deb.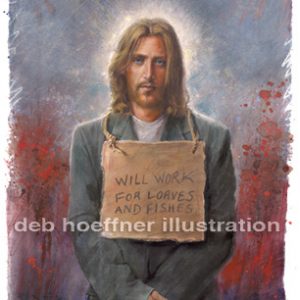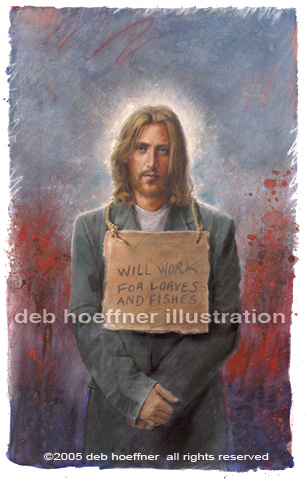 High quality giclée prints of the original watercolor and pastel painting available in 2 sizes.
Custom printing of 5″ x 7″ notecards available on request.
Large: 15" x 25" on Somerset velvet acid free paper.
$145.00 USD, plus shipping.
Medium: 12" x 18" on Somerset velvet acid free paper.
$115.00 USD, plus shipping.

One customer's response upon receiving his print:
"The print is awesome! Me, my wife and my son all said it looked as if you had just painted parts of it and it was drying."
Here's another:
"A nun in a ministry to the homeless received a gift of the Homeless Christ print from a family member. The first day she hung it at the drop-in shelter where she works, one of the street people came running into her office wild with excitement. He was yelling "Mama! Mama! Did you see it? Oh, did you see who's here?" (The Latino population call her "Mama" rather than "Sister," while the African-Americans call her "Baby.") The nun followed him into the room where the Homeless Christ was hanging, and found a crowd gathered around it in complete reverence."
Shipping to USA only. International shipping to be calculated upon receipt of order.
Rocky Mountain Stars and Stripes
This illustration was originally created for the cover of the August-September 2003 special issue of Bugle Magazine. Copies of the issue were sent to the troops overseas.

"I am happy to report that the positive feedback on your cover art just keeps pouring in! We have even had some members calling in wondering if a print is available. We really hit a home run with that one! Thanks so much and congratulations on such a successful piece!"
Jodie Peters
Art Director, Bugle Magazine – Rocky Mountain Elk Foundation
Books illustrated and signed by the artist
Lucky: The Tale of a Tree
Lucky is the tale of a lonely young tree discovered deep in the woods and chosen as a family's perfect Christmas tree. Told from the tree's perspective the book is a gentle lesson on friendship, humility, mortality, and the value of life. In the words of Scraggly, "Always remember that you have made a  difference in this world. You have made other people happy."
Forever Home: Tales of Four Lucky Dogs
Forever Home: Tales of Four Lucky Dogs tells the stories of four special dogs from their own unique and poignant perspectives. How they journeyed from peril, loss and abandonment at shelters to warm and loving forever homes.Max, an adorable Akita husky puppy, is dropped off at a shelter with his littermates. An all too frequent story, but he is one of the lucky ones.
Lila, a black lab and pit bull mix, is a runaway. Her goal is to keep trying new homes until she finds one worth staying in.
Sam, an older dog who spent years in a shelter with little hope until one day a special person came to take him home.
Cocoa, a chocolate lab who was displaced by hurricane Katrina in New Orleans. Lost in a flooded city, she must travel a long, scary way to find her new home.
The tales will make you smile, laugh and understand from the heart how wonderful it is to be rescued, loved and taken to a forever home.