religious, stock art illustrations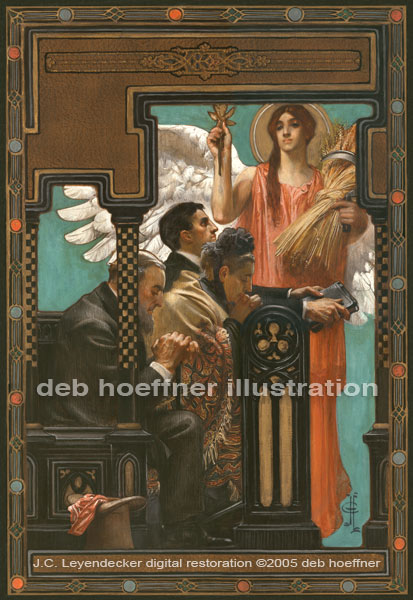 Digital restoration of J.C. Leyendecker 1901 Success Magazine Cover Illustration
---
Digitally restoration from high resolution scan of original art. A masterpiece from the golden age of illustration, this J.C. Leyendecker original has been digitally restored to it's full glory and is now available for stock usage. The original painting was exhibited in the
"J.C. Leyendecker: A Retrospective Exhibit of 1997-98"  at the Norman Rockwell Museum, Stockbridge, MA.
Original art over 100 years old is a watercolor on illustration board with gold paint and paper attached in sections. It had been cut to fit a frame so that edges were frayed and border sections were damaged and some missing. See slide 1.
After careful scanning of original art, digital work using photoshop was used to restore the missing edges and border sections. Careful and very selective clean up also done to restore without changing the image. See slide 2.
Final step is color correcting to match existing original art. I had the honor of having the original JC Leyendecker painting in my studio to match. See slide 3.
---
Detail view of photoshop restoration
Step 1 – Scan of original art.


Step 2 – Border restored and general careful clean-up of age damage to image.


Step 3 – Color corrected to match original art.