deb's unique style, which she calls "soft realism", is a layering of thought, paint and possibilities.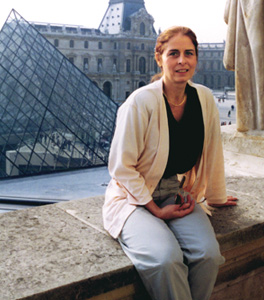 Over the years, her work has evolved from a very tight realism to a more fluid, painterly expression. The title artist/illustrator suits her. With degrees and experience in art education, fine arts, and graphic design and an added passion for art history, deb has the experience, knowledge, and curiosity to constantly create new solutions to visual challenges. Rembrandt, Monet, Michelangelo, Jackson Pollock, J. C. Leyendecker, Maxfield Parrish, Howard Pyle, Bernie Fuchs, Mark English, and particularly a dear friend and teacher Lili Gaydos are just a few of the artists whose work has been her inspiration. Her drawings are realistic and fluid with a wide depth of tones. Working in the traditional mediums of watercolor, pastel, oil and pencil with a dash of digital,  deb's work reflects a touch of the old masters combined with her own vision. "My work has always been about expression and layers. Layers of thought, layers of pencil and eventually layers of glazed colors. The result is what I call "soft realism" which leaves room for the imagination. The brushstrokes and pencil strokes are a part of the image rather than masked. Part of my expression is to say that even in this digital world, the human touch of a hand can create magic." deb's work has been published in print, web and advertising worldwide. Her "Homeless Christ" has been printed and displayed in books, magazines, churches, homeless shelters and more, reaching from Key West to Australia, while her illustrations appear on products reaching from the local pet store to the watering holes of Cambodia where Kingdom Breweries showcased her drawings of Cambodian wildlife including the Kouprey, Cambodia's national animal.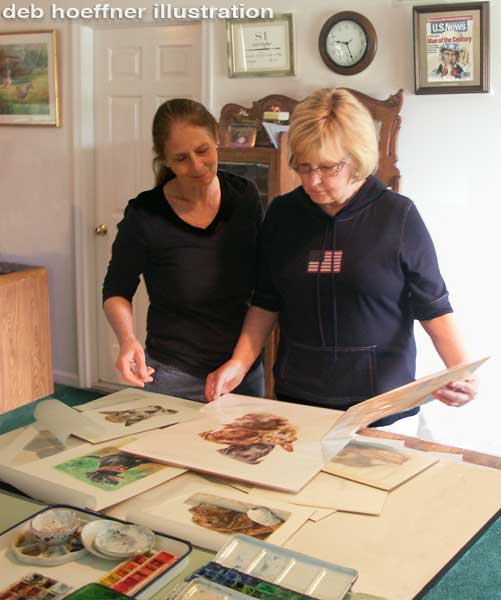 deb's portraits are not just about capturing a likeness but rather finding the special spark that lives behind the eyes in pencil and paint. Her award-winning portrait of "Grandfather Many Crows", a beloved local tribal leader, was printed as part of his last wish gift to reservations across the country and is now in the collection of the Native American Alliance of Bucks County. Her drawings of animals have been featured in the Strokes of Genius: The Best of Drawing annuals published by North Light Books and a pencil portrait of a sheep, titled "Howell Farm Dreadlocks" was featured in the book "Art Journey Animals: A Collection of Inspiring Contemporary Masterworks" also published by North Light Books. Deb has designed and illustrated three award-winning children's books, "All You Want And Then Some" and "Lucky: The Tale of a Tree", and "Forever Home: Tales of Four Lucky Dogs". Her newest books are "A Friend On The Porch" and "Benjamin's Gift".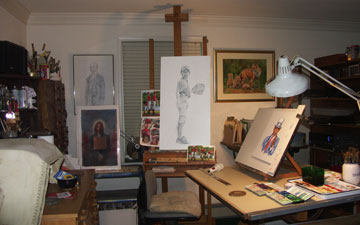 deb's studio is open by appointment. Author Lynn Whitman came from Connecticut to view original art for her book "Forever Home: Tales of Four Lucky Dogs".
---
Partial Client List: A&P, AT&T, Baldacci Productions, Bibb Company, Bio-Botanica, Bradford Exchange, Braille Institute, Common Threads, Concord Litho, Deutsche Bank, Heidelberg, Le Petit Chateau Restaurant, Kingdom Breweries Ltd.,  Medical Economics, MONY, NY Daily News, New York Times, Oldwick General Store, Patrick Henry College, Patriot's Path Foundation, PC Magazine, Prudential, Rocky Mountain Elk Foundation, Random House, Ripon Society, Salvation Army, SFO Magazine, Simon & Schuster, Social Enterprise Alliance, TIAA-Cref, Unix, US News & World Report, Washington City Paper.
Member of Artsbridge , Society of Illustrators , Bucks County Illustrators Society and NJ Creatives Network.
---
Partial Exhibit List:
1975 Contemporary Crafts Exhibition, Delaware Art Museum
1988 Catharine Lorillard Wolfe Art Exhibition, New York, NY
1998 Morris County Art Association, Morristown, NJ, award
1989 Ringwood Manor Association for the Arts Exhibition, Ringwood, NJ, award
2002 Society of Illustrators Prevailing Human Spirit Exhibition, New York, NY
2005, 2006 Juried Drawing Exhibition, Mixed Media Gallery, Doylestown, PA
2006 Artsbridge Works on Paper Exhibit, Lambertville, NJ
2006 Gallery Opening Group Show, Gallery Bellaria, Bryn Mawr, PA
2006 Summer Exhibition, Gallery Bellaria, Bryn Mawr, PA
2006 From Bristol to Easton" Bucks County Gallery, New Hope, PA
2006 The Artist Looks at Hunterdon County, Stockton, NJ
2006, 2007, 2009 Phillips Mill Art Exhibition, New Hope, PA
2006, 2007, 2008, 2010 Tinicum Arts Festival, Erwinna, PA, award
2007 Juried Art Show, Mixed Media Gallery, Doylestown, PA
2006-7 Holiday Show, Gallery Bellaria, Bryn Mawr, PA
2007 Visual Passages, Canal Frame-Crafts Gallery, Washington Crossing, PA, award
2007, 2008, 2009, award, Artsbridge Juried Show, Riverrun Gallery, Lambertville, NJ
Phillustration '07, Phillustration '09, award, Phillustration '10, Phillustration '12, Philadelphia Sketch Club
2008, Inside the Artist's Studio, II, Bucks Gallery of Fine Art, Newtown, PA
2010 Artsbridge Members Show, Stockton, NJ, award
2010 Phillips' Mill 81st Annual Fall Exhibition, New Hope, PA
2010 NOVA Galaxy Art Show, Doylestown, PA, awards
2010 New Hope Art League 1st Juried Show, Stockton, NJ
2011 Phillips' Mill 82nd Annual Fall Exhibition, New Hope, PA
2011 Artsbridge Members Show, Stockton, NJ
2013, 2015 Byers Bucks Fever Art Exhibition, Bucks County, PA
2013 The Art of Illustration, Exhibit of the Bucks County Illustrators Society, Pearl Buck Cultural Center, Dublin, PA
2014 Proud To Be An American Exhibit, Bucks County Community College, Bristol, PA
2014 Phillips' Mill 85th Annual Juried Exhibition, New Hope, PA
2015 Show Some HeArt Exhibit, Bucks County Community College, Bristol, PA, award
2015 Covered Bridges & Barns Exhibit, Rich Timmons Gallery, Doylestown, PA
2016 Fantasy Tales, A Bucks County Illustrators Showcase, Scatter Joy Center for the Arts, Horsham, PA
2016, 2017 Tinicum Arts Festival, Erwinna, PA, award
2016, 2017 Phillips' Mill 87th and 88th Annual Juried Exhibitions, New Hope, PA
2017 Phillustration 9, Philadelphia Sketch Club
---
see what's new > deb hoeffner illustration on Facebook